Backyard Rabbit Keeping, Part 12/15 – Using Rabbit Meat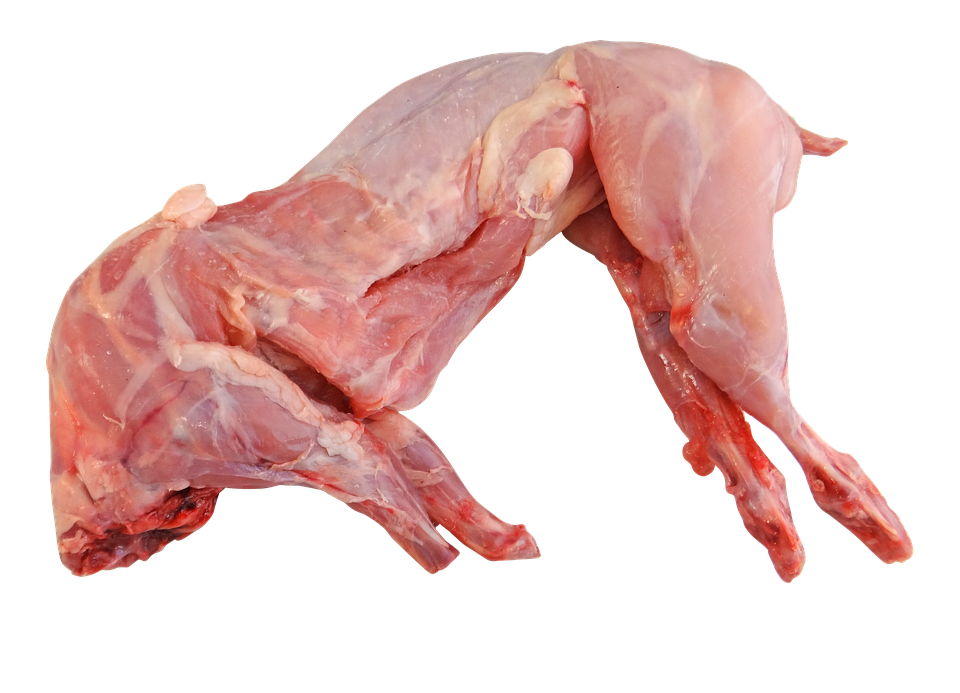 How then shall we cook our fresh, home-produced meat? Most of the recipes in established cookery books are for wild rabbit, but the only difference is that you may need less cooking time for young tame rabbit – and you won't need to soak the meat in salt before cooking, to whiten it. Always eat rabbit fresh; it should never be hung like hare. If you can't deal with it fairly soon, freeze it unto you can. If you are interested in cooking you will probably have some recipes of your own, or invent them. I have collected a few ideas for cooking rabbit which might be of some use. The high protein and low fat content mean that a small portion contains a lot of nourishment, easily digested. It is also very adaptable.
| | |
| --- | --- |
| | Roasting: This is the traditional way in which to cook a young rabbit. The thing to remember is that because there is little fat on the rabbit you must be careful that the meat does not go dry in the oven. We usually tie a piece of bacon fat to the back, and cover with greased paper. While roasting (it takes 1 to 1¼ hours) we baste it about every quarter of an hour or so, tipping over it the fat which has run off the bacon. Of course the surplus fat in the tin has to be poured off before you make the gravy; it also helps if you take off the bacon and paper for a few minutes at the end to allow the roast to get nicely brown.A roast rabbit can be stuffed – with sage and onion, or thyme. Some people boil the heart, liver and kidneys, chop them up and add them to a thyme and breadcrumb stuffing, added to which are lemon juice and seasoning, plus about 2 oz suet. Like chicken, rabbit is pleasant served with bread sauce. |
| | |
| --- | --- |
| | Rabbit Pate: This is another thought. Once again the lack of fat can be noticeable, so belly pork or fat bacon can be added to give the right consistency. This is the answer to the question of how to dish up rabbit so that everybody can enjoy it, whether they have a prejudice against rabbit or not.There are several ways of making pate, with more or less seasoning as you prefer. The older recipes tend to call it paste. The general method is to simmer the jointed rabbit in water for about half an hour. When it's cool, all the meat is taken off the bones and minced or chopped fine with pork or bacon (say 1 lb to a rabbit). Seasoning is added, and wine or sherry. Suggested additions are thyme, which is often used with rabbis meat, parsley, garlic, mace, lemon, bay leaves and juniper berries. The mixture is left to stand and then cooked slowly in the oven for about 2 hours. To prevent it burning or drying, it can be steamed in a covered bowl on top of the cooker. After cooking, the pate is weighted down overnight to give it the necessary solidity. |
Rabbit Pudding: This is really like steak and kidney pudding, a family filler for cold weather. Plenty of onions are needed for this and sometimes mushrooms and tomatoes are also added. The rabbit is cut into small pieces and put into a basin lined with suet pastry. Each layer of the ingredients is sprinkled with flour, salt and pepper; the basin is sealed with or water and the pastry lid is sealed. This is covered with greaseproof paper and steamed in the traditional way for about 2¼ hours. It should be served with thick gravy. Once again, you need not say what it is! To make the suet crust you will need:

8 oz flour
4 oz shredded suet
salt and pepper,
Rabbit Pie: Another good old English dish. This time the rabbit is served up in short crusty pastry. The rabbit is simmered first (after being divided into joints) for about 1 1/2 hours, with salt, pepper and any other seasoning you like; use about 1 pint of water and about 1/2 pint of this will be used as stock for the pie. For short crusty pastry you need:

8 oz SR flour.
2 oz margarine
2 oz lard
1 teaspoonful salt
2 tablespoons water to mix

Some recipes have force-meat balls included in the pie. These are dropped into the pan when the rabbit has been boiling for a while. To make force-meat balls, mix together 6 oz fresh breadcrumbs, 3 oz suet, thyme and parsley, seasoning, lemon juice and an egg. When it is all well mixed, roll into balls.
Curried Rabbit: As for any curry, the meat is lightly browned in butter along with some chopped onions and then simmered slowly, with curry powder added to taste. We always put garlic in curry. The rabbit can also be simmered in milk to make this curry. Some people enjoy ground cloves. If you make curries you will have your own favorite ingredients. Serve the curry in the center of the dish, with an edging of boiled rice all round. Ordinary rabbit was hardly the thing for a Victorian dinner party, but curried rabbit seems to have been acceptable.

Even if you are not keen on curry, rabbit can be served very successfully with rice in the same way that chicken can. It can be jointed and cooked in a variety of sauces, sometimes with a little pork to add richness. One recipe suggests simmering joints of rabbit with onions in cider for about an hour, after which you add raisins, sultanas and prunes.
Fried Rabbit
Ingredients: 1 rabbit, flour, dripping, 1 oz butter, 1 teaspoon minced shallot, 2 tablespoons mushroom ketchup.
Cut the rabbit into neat joints, and flour them well; make the dripping boiling in a frying pan, put in the rabbit, and fry it a nice brown. Have ready a very hot dish, put in the butter, shallot and ketchup; arrange the rabbit pyramidically on this, and serve as quickly as possible. Time 10 minutes. Average cost – from 8d. per lb. Sufficient for 4 or 5 persons. Seasonable from September to February.
Note: The rabbit may be brushed over with egg, and sprinkled with breadcrumbs and fried as above. When cooked in this manner, make a gravy in the pan, and pour it round, but not over, the pieces of rabbit.
Fur Production
Showing
Angoras