Patagonia Travel Belt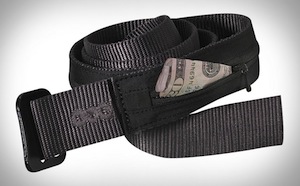 Tyler: We've all seen the classic travel and money belts, but this is the first one I might own.
Belts are boring, but essential tools. Outside of holding up pants their utility tends to be fairly limited. I own the previously reviewed 686 Tool Belt, and find it useful from time to time, but decided I wanted something simpler for traveling. After reading about the benefits of nylon webbing, I picked up one of Patagonia's Travel Belts.
The Travel Belt, like the previously reviewed Tech Web Belt, is made up of nylon webbing that can be cut down to size and sealed with an open flame. Unlike standard webbing belts, the Travel Belt has a long 19″ x 1.5″ zippered pocket sewn on the inside that can easily stash a folded copy of a passport, folded currency, and keys. The pocket is surprisingly lengthy and capacious that when filled is never uncomfortable or ungainly.
I'm not a paranoid traveller, but I do recognize that it's possible to lose a wallet, or have a bag whisked away at an inopportune moment. The Travel Belt makes it very unlikely that I'll lose everything. On a recent trip to Bangladesh, I kept a folded copy of my partner's and my passport, $20 in local currency, and an apartment key in the hidden pocket. Luckily, we never had need of the belt's contents, but the security of knowing we wouldn't be without bus fare home was comforting.